Fall is officially here and that means Halloween is just around the corner. If you're hosting a party or just want to make some festive treats, we have you covered!
Thank you for sponsoring this post,  ACME Markets. 
With the ACME Markets Stock Up Sale you can get all the ingredients and snacks you need for your next party. Even if you're short on time or baking skills, you can still make Pinterest-worthy treats with a few simple ingredients. We promise these recipes are both delicious and easy-to-make.
From Yoplait yogurt to Nature Valley granola bars to Betty Crocker baking goods, Albertsons company stores including Albertsons, Safeway, ACME Markets , Jewel-Osco, Vons, Pavilions, Randalls, Tom Thumb, Shaw's, Star Market, United Express, United and Carrs/Safeway, has all the staples you need at low prices.
Here are a couple, festive Halloween treat recipes to get you started.
Mini Pumpkin Yogurt Granola Cups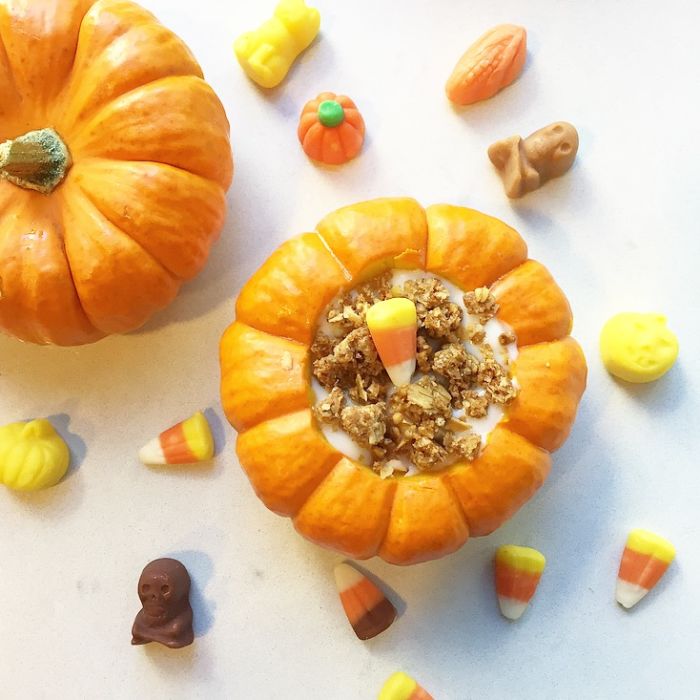 These easy-to-make festive mini pumpkin yogurt granola cups are adorable and the perfect treat for your next party.
Ingredients:
Mini Pumpkins
Nature Valley granola bars
2 cups vanilla Yoplait yogurt
1 (15 ounce) can pumpkin puree
1 teaspoon cinnamon
1/8 teaspoon nutmeg
1/8 teaspoon allspice
Puree all ingredients. Scoop out the inside of the mini pumpkins and fill with mixture. Top with granola and a couple pieces of candy corn for extra cuteness.
Spooky Triple Layer Brownies
It's always a good time for 3 layer brownies. These treats combine fudge brownies, whipped frosting, and Oreos topped with candy corn for a decadent, festive Halloween treat.
Ingredients:
Betty Crocker Fudge Brownie Mix
Betty Crocker Whipped Frosting
Oreo Cookies
Candy corn
1/2 cup vegetable oil
2 eggs
3 tablespoons of water
Halloween candy
Mix Betty Crocker Brownie Mix, vegetable oil, 2 eggs and 3 tablespoons of water in medium bowl until well blended. Bake in 13 x 9 pan at 350 degrees for 22-25 minutes. Let cool. Cut brownies into  2 x 2 squares and top with Betty Crocker Whipped Frosting. Crumble Oreos on top and garnish with candy corn.
Giveaway Time!
Want to win a full year's worth of groceries? Albertsons Companies is giving away groceries for a year to one lucky winner. Between 10/4-10/19, show them how you how you stock up your pantry and share a photo of how you've loaded up with your favorite items, including those below, from #StockUpSale2017.
Entry is as easy as 1-2-3:
Take a photo featuring two or more of the participating Stock Up Sale products below
Share the photo on Twitter or Instagram or at [insert bit.ly for your store found below] by 10/19
Use #StockUpSale2017 in your caption and complete entry form
Participating products:
Honey Nut Cheerios™

Cheerios™ 8.90oz.

Cinnamon Toast Crunch™ 12.20oz.

 Progresso™ Traditional, Rich & Hearty, Reduced Sodium, Light Soup, Vegetable Classic, selected varieties 18-19oz

 Nature Valley™ Granola Bars 7.44oz-8.44oz

Yoplait® Traditional Yogurt, 4-6oz, selected varieties

Oui™ by Yoplait® Strawberry French Style Yogurt 5oz.

Annie's™ Natural Mac & Cheese 6oz; selected varieties

Old El Paso™ Shells

Totino's™ Pizza Rolls 15ct, Totino Party Pizza 9.8-10.4oz, selected varieties

Betty Crocker™ Hamburger Helpers, 4.7-8.7oz, selected varieties

Betty  Crocker™ Fruit Snacks, 4.5-8oz, selected varieties

Chex Mix™ 8-8.75oz, selected varieties

Betty Crocker™ Super Moist™ Cake Mix, 15.25 – 16.25oz., select varieties

Betty Crocker™ Whipped Frosting, Milk Chocolate 12oz.

Betty Crocker™ Brownie Mix, Chocolate 18.40oz.

Pillsbury™ Apple Toaster Strudel™, 6ct., 11.70oz.

Coca-Cola MiniCans

Dasani Sparkling Black Cherry

Classico Tomato Basil

Heinz Ketchup

OREO 14.3 oz

Ritz 13.7 oz

Enter to win 1 year worth of groceries from ACME Markets and other Albertsons companies!

Don't forget to download your local store's app for additional savings all year long!

This is a sponsored post written by me on behalf of ACME Markets