Thank you for sponsoring this post, Bertolli!
Last week we had the pleasure of sitting down for a rustic Italian dinner with our friends at Bertolli®. We arrived to the Gramercy Park Hotel terrace to a lively crowd and Aperol spritzers flowing. They served up an incredible family style dinner of Tuscan salad, roasted branzino, chicken cacciatore, cavatelli and mascarpone & parmesan polenta. Dessert followed with classic tiramisu and berries and cream. Not only did we leave full and happy, but it inspired us to whip up some delicious Italian recipes this holiday season using Bertolli's new Rustic Cut™ sauces.
Bertolli's new hearty Rustic Cut sauces do not need anything added -they are full of thick-cut vegetables and homemade flavor, so they're perfect straight from the jar. They contain no artificial colors, flavors or added sugars, so you get all the flavor without the bad stuff. Bertolli is also launching their Bravo Rewards Program this month. Buy any two or more jars of Bertolli Pasta Sauce, post a photo of your receipt on bertolli.com/bravo and you'll receive a custom ceramic spoon rest. Pretty cool, right?
Ready to get cooking this holiday season with Bertolli®? Check out these delicious recipes below and head to their website for more incredible recipes and inspiration.
Rustic Minestrone Soup
Ingredients
1 small zucchini sliced in
½ -inch half moons
2 cups tightly packed, Tuscan kale leaves, thinly sliced
1 carton (32 ounces) vegetable broth
1 can (15 ounces) (cannellini) beans rinsed
1⁄3 cup shaved Parmigiano-Reggiano cheese
3 table Bertolli® Extra Virgin Olive Oil divided
1 jar (23 ounce) Bertolli® Rustic Cut™ Marinara with Traditional Vegetables Sauce
Directions
Heat 2 teaspoons oil in 6-quart pot on medium-high heat.
Add zucchini and kale; cook 1-2 min. or until kale begins to wilt, stirring frequently.
Reduce heat to medium; add sauce, broth and beans. Simmer 5-7 min. or until heated
Asiago Giambotta Over Parmesan Polenta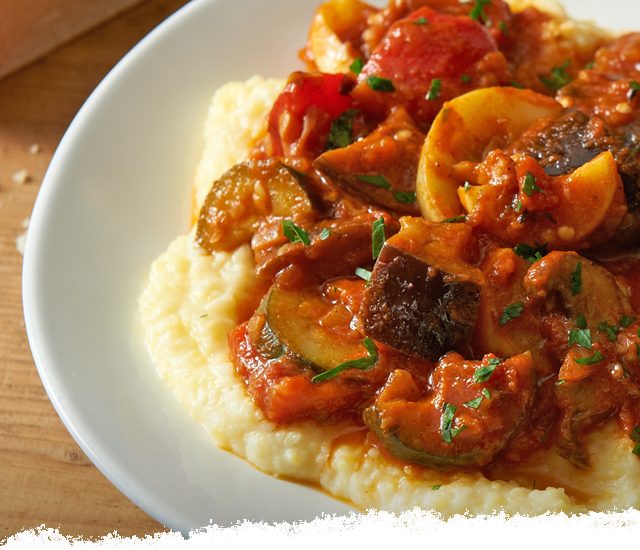 Ingredients
1 Tbsp. Bertolli® 100% Pure Olive Oil1 Tbsp. Bertolli® 100% Pure Olive Oil
3 cups bite size chunks of eggplant
2 medium zucchini and/or yellow squash halved and sliced ½ -inch thick (about 2 cups)
1 medium red bell pepper chopped
1 cup sliced mushrooms
1 medium onion, chopped
1 jar Bertolli® Five Cheese Sauce with Ricotta, Romano & Parmesan Cheeses
1 tsp. fresh thyme leaves,
1 cup grated Parmesan cheese
1 ½ cups polenta or yellow cornmeal*
6 Tbsp. butter, cut into pieces
½ tsp. salt
Directions
Heat olive oil in large saucepot over medium high heat. Add vegetables. Season with salt and pepper if desired. Cook vegetables, stirring occasionally, until tender, about 5 minutes. Stir in the sauce and thyme. Bring to boil, reduce to heat to low, cover and cook 15 minutes.
Meanwhile in a separate saucepan bring water to a boil. Add polenta, whisking constantly. Cook, frequently stirring, 30 minutes*. Add butter, Parmesan cheese, and salt stir until creamy.
Artichoke Spaghetti with Toasted Garlic Breadcrumbs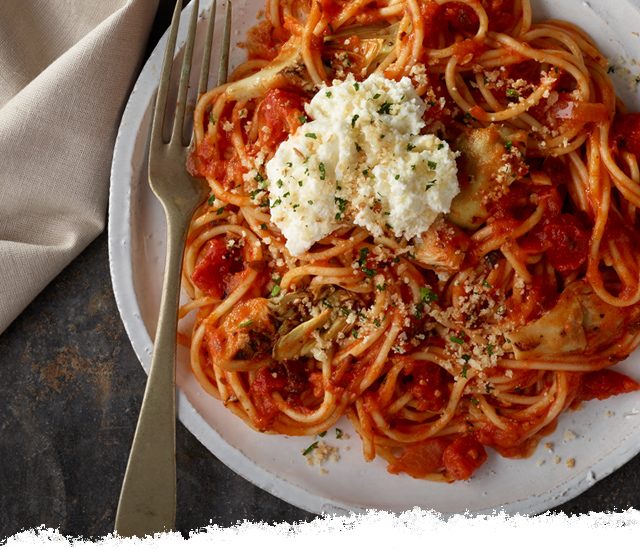 Ingredients
12 oz. uncooked spaghetti12 oz. uncooked spaghetti
1 Tbsp. Bertolli® Extra Virgin Olive Oil
½ cup panko bread crumbs
½ teaspoon garlic powder
¼ cup grated Pecorino Romano cheese
2 tablespoons finely chopped Italian parsley
1 jar (12 ounces) quartered marinated artichoke hearts drained (about 1-½ cups)
1 jar (23 oz.) Bertolli® Rustic Cut™ Spicy Marinara with Traditional Vegetables Sauce
1⁄3 cup whole milk Ricotta cheese
Directions
Cook pasta 2 min. less than directed on package; drain.
Heat oil in large non-stick skillet on medium heat.
Add bread crumbs and garlic powder; cook 4-5 min. or until panko is golden brown, stirring frequently.
Remove skillet from heat; stir in grated cheese and parsley.
Set aside in small bowl to cool.
Add artichokes to same skillet on medium heat. Cook 3-4 min. or until artichokes start to brown.
Stir in sauce and simmer 2-3 min., stirring occasionally. Add pasta; toss 1-2 min. or until combined.
Top each serving with bread crumb mixture and a spoonful of Ricotta.