André Rieu, world-renowned violinist and conductor has just released his new album Shall We Dance along with a 10-part U.S. tour. The much-anticipated tour is airing now on Ovation TV  as a documentary following Rieu's life titled "Welcome To My World".  Shall We Dance was released on October 6th and features many classics including,  "The Blue Danube," "Love in Venice," "Bolero," "Zorba's Dance," and  for you Titanic fans, it even includes My Heart Will Go On.
This is a sponsored post on behalf of Decca Gold. All opinions are our own.
We had a chance to listen to Shall We Dance in its entirety and it's a must-hear for any classical music fan or movie buff. The album covers a couple of our absolute favorite arrangements including the Godfather theme and A Time For Us from Romeo & Juliet. Both of these tracks were beautifully arranged and inspired a nostalgia that reminded us of our favorite films. Shall We Dance takes you back in time with classic arrangements that you can listen to while you're working or play at a holiday party. The familiar themes make it the type of album that can resonate with an entire room, regardless of age.
The album includes a CD and DVD from Decca Gold and can be purchased online here and at Target.  If you purchase Shall We Dance at Target you'll get two exclusive bonus tracks, Music of the Night (from Phantom of the Opera) and Lara's Theme (from Dr. Zhivago). 
If you want to see the maestro in person, the tour kicks off on October 19 in Phoenix (see full tour dates below) and tickets can be purchased here. See you there!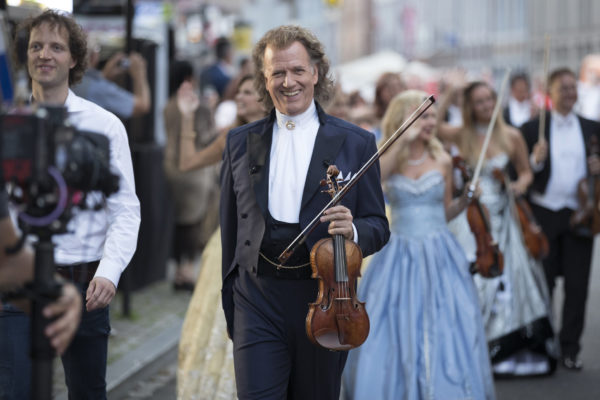 "Shall We Dance" Tracklisting:
Second Waltz
The Blue Danube
And The Waltz Goes On
Godfather ( Main Theme)
Strauss & Co Medley
Love In Venice
Radetzky March
A Time For Us ( Romeo & Juliet)
Zorba's Dance
Edelweiss
Carnival Of Venice
Bolero
My Heart Will Go On
Time To Say Goodbye
Music Of The Night ( From Phantom Of The Opera) (Target Exclusive)
Lara's Theme ( From Dr. Zhivago) (Target Exclusive)
US Tour Dates:
10/19 – Phoenix, AZ
10/20 – Las Vegas, NV
10/21 – San Diego, CA
10/22 – Los Angeles, CA
10/24 – San Jose, CA
10/25 – Sacramento, CA
10/26 – Fresno, CA
10/28 – Tacoma , WA
10/29 – Portland, OR
11/1 – Tampa, FL
11/2 – Orlando, FL
11/3 – Sunrise, FL