With all the different skincare options out there, it can be tough to decipher which products to use. This is especially true if you have sensitive skin. Finding products that don't contain irritating chemicals or cause breakouts can be especially challenging if you have reactive skin. This is where using simple products with natural ingredients comes into play. More often than not, less is more when it comes to skincare. If you have sensitive skin or you simply want to switch to more natural products, here are a few alternatives to try, featuring one of our favorite natural brands, Tom's of Maine.
Thank you Tom's of Maine for sponsoring this post.
Natural Deodorant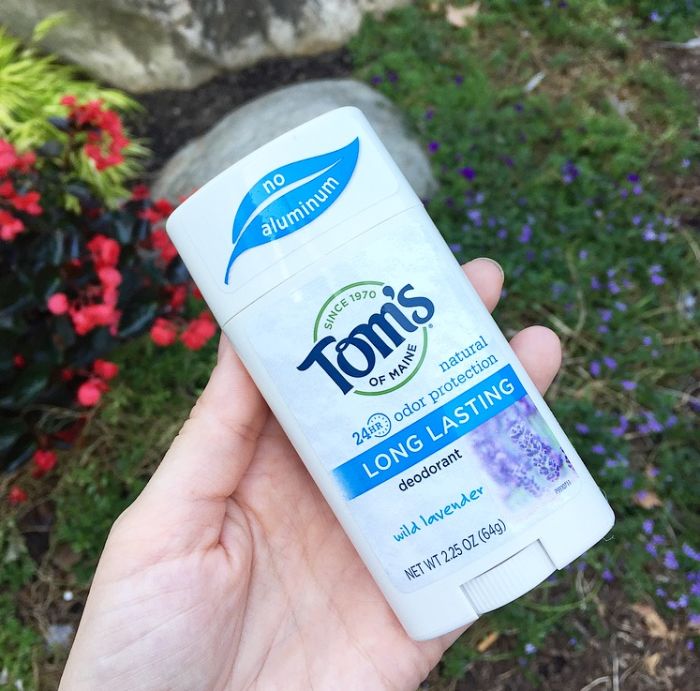 Using natural deodorant is one of the first ways you can remove chemicals from your skincare routine. Traditional deodorants often use aluminum, petrochemicals, parabens and artificial fragrances or preservatives. Tom's of Maine Long Lasting Natural Deodorant is not only free of such chemicals and additives, but it naturally provides clinically proven, 24-hour odor protection, using ingredients that naturally prevent the growth of odor-causing bacteria. Plus, Tom's of Maine is environmentally friendly; they use fully recyclable packaging and do not test on animals.
Tom's of Maine deodorant comes in several natural scents including, Lavender, Apricot, Tea Tree, Lemongrass, Natural Powder, Unscented and many others. One thing to note about switching to natural deodorant is the adjustment period. If you have previously been using traditional aluminum based deodorant, your body will need some time to acclimate. We suggest using Tom's of Maine deodorant for at least 3-7 days and experimenting with different formulas to see which one works best for you. For example, tea tree has additional bacteria-fighting properties so it may be your best option if you want a stronger formula.
Coconut Oil
The great thing about coconut oil is that you can use it for just about everything. From moisturizing to cooking to removing your makeup. It really is a great do-it-all product that can replace many chemical-based products. When shopping for coconut oil, look for the extra virgin kind that is refined to be flavorless. This super pure version of coconut oil has no flavor or color and can be used from head to toe. It's also great for cooking and can replace unhealthy oils and fats.
Apple Cider Vinegar
Apple Cider Vinegar is another great multitasking product that you can use on your skin and hair, and it's also a great non-toxic ingredient to use for cleaning. When using apple cider vinegar, be sure to dilute it with water first otherwise it can be too strong. Also be aware that it has a strong smell, as most vinegars do, but you can add essentials oils such as lavender or mint to help cut through the smell.
Raw Activated Charcoal
You may have heard a lot about activated charcoal lately -and for good reason. Charcoal is an incredible natural ingredient that can be used in skin and hair products to clarify and remove impurities. Not only is it effective, but it's inexpensive and easy to add to your favorite masks and cleansers. When buying charcoal, be sure that it is the skincare grade raw activated charcoal in powder form.
I was selected for this opportunity as a member of CLEVER and the content and opinions expressed here are all my own.