This is a sponsored post in partnership with HerCampus Media.
As many of you know, we've been huge fans of Clarisonic for many years and we've recommended using this brush numerous times for cleansing all skin types. It really is that good and it really does make that big of a difference. Over the years imitations have popped up here and there but nothing cleanses like an authentic Clarisonic brush.
If you've never experienced cleansing with a Clarisonic you won't believe the difference it makes in the clarity and cleanliness of your skin. If you suffer from congested skin or acne, it's truly a godsend. Clarisonic brushes cleanse six times better than hand cleansing and after just 10 days of use you'll notice less clogged pores, less blackheads, improved clarity, smoother texture, and overall brightness and softness.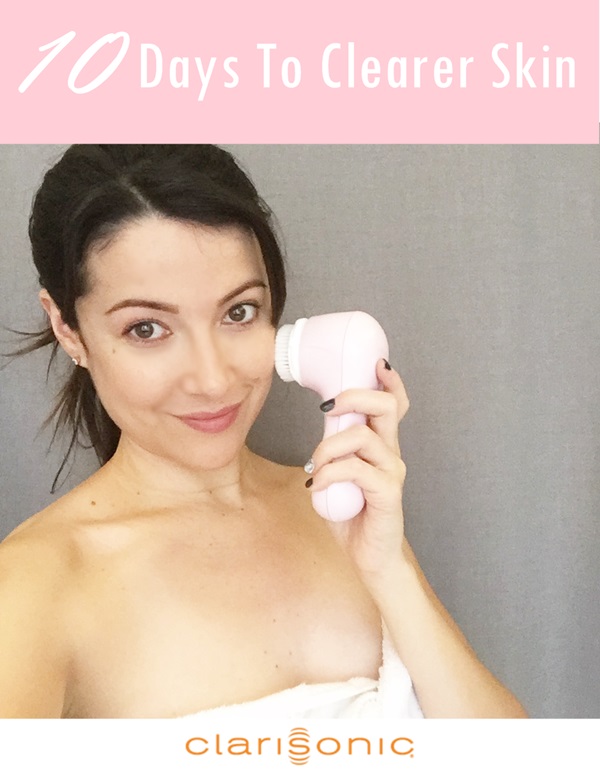 So, you may be asking, what makes this brush so special? Why is it better than other brushes and manual cleansing? The secret is in the patented sonic technology which oscillates and gently flexes the skin and flushes water and cleanser into the pores. This process literally vibrates out all the dirt, oil and debris that causes breakouts, clogged pores and aging.
The result is thoroughly cleansed skin, free of all the gunk that is normally left over after manual cleansing. Have you ever cleansed and wiped your face with toner afterward and noticed dirt and makeup still on the pad? Yes, that's all the debris that normally stays on your skin when you manually cleanse! Clarisonic gets rid of all that gunk once and for all.
Clarisonic offers a variation of waterproof brushes. The one we currently use is the Mia 1 (retail $129). It's a great intro brush to Clarisonic and features one speed that's suitable for all skin types, including sensitive. You'll also find a variety of brush heads for all skin types including sensitive, deep pore, and acne brush heads, each made to address specific issues.
For even better results, try their cleansers, which are formulated to be used with Clarisonic brushes for an even deeper clean. Their Pore & Blemish Gel Cleanser ($18 USD) is especially good for acne prone skin types and contains 2% Salicylic Acid as well as micro-exfoliating Lipo Hydroxy Acid to thoroughly yet gently cleanse cell-by-cell. In a consumer perception study* after four weeks:
98% of women said the number of imperfections on their skin was reduced

94% experienced smoother skin and a more even complexion

88% said their blackheads were visibly reduced

75% reported more radiant skin
*Study performed on 52 women, age 20-44 years old with oily skin on the face and tendency to
acne lesions.
Ready to get the clearest, brightest skin of your life? You can shop all Clarisonic products here and use the Her Campus exclusive promo code HERCAMPUS to get 15% off all devices!  And don't worry if you're on a tight budget, Clarisonic offers monthly payment plans upon credit approval. See terms for details.
Thank you for sponsoring this post, Clarisonic and Her Campus Media! All opinions are our own.